Ghosts and Strings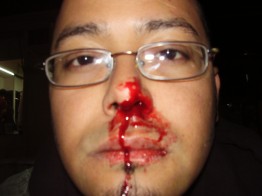 About the artists
Ghosts and Strings (also known as Los Veneremos) is the long over due project by composer/musician/sound designer/recording engineer David Molina.
It truly represents the kind of music where his heart is really at: Long Epic, Cinematic, Guitar based pieces.
For the past 15 years he has been performing music, composing scores, and designing sound for theatre, dance, film, radio, installation, performace art, and multimedia productions.
Since the age of seven years old, Molina has been perfoming various styles of music on many instruments, in many bands and ensemble formations. He also performed and studied classical guitar for 12 years, until he discovered the art of recording and scoring music for theatre and dance. starting around 1995, molina collaborated and performed with the amazing guitarist and composer Chris Webb on numerous theatrical productions and in bands.
He has worked with numerous theater companies, and art spaces in San Francisco and frequently collaborates with visual artist Victor Cartagena, film maker Ana Geyer, performance artist Violeta Luna, and director Roberto Varea. from 2000 to 2005 he was sound engineer & resident artist for the former Drum Machine Museum, and performed many concerts with museum owner Mickey Tachibana in the electronic groups Special Patches and Collision Course.
Film credits include Barry Gifford's "Ball Lightning", the "Narc" and "Prospect"by Octavio Solis, and the documentary "The Translation Project" by Niloufar Talebi, the films of Ana Geyer, and the Cause Collective's "Along The Way" (Sundance Film Festival winner 2008), and several documentaries for The Working Group production company. Molina's experimental/Ambient/noise project is Transient and has performed at 2005 and 2007 International Loop Festival, and at Chapel of Chimes 2005 winter concert, and at various noise shows in SF, Peru, and Argentina, He also performed and recorded with free-jazz musicians Marco Eneidi, and George Cremachi.
Molina is part of the installation/performance troupe Secos Y Mojados, who were invited artists for The Hemispheric Institute's "Encuentros 2007" and have received the 2009 Creative Capital Grant. He has collaborated and performed with La Mente (Descabellado Records), El Paso (Dorog Records), Via 149, Kyron (Black Note Music), Tempest Fujit, Sur Oculto and CTX.
You can also find his music under the name Los Veneremos on Dorog Records and on Myspace.
Links
www.myspace.com/ghostsandstrings
www.dorogrecords.com
www.deconstructionist.com/blacknote
www.myspace.com/losveneremos
www.myspace.com/transientelectronics
Appearing on the following releases
Artists