Saito Koji – Yes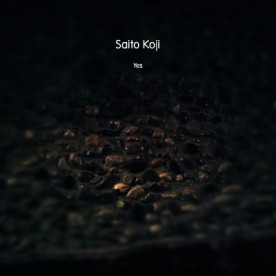 Description
It is Saito Koji-time again. He worked with labels like Kokeshidisk, Somehow Recordings, SEM , taâlem, Magic Book Records, Kesh Recordings, Gears of Sand Recordings, Median Recordings and element perspective. And he already released eight previous releases via Resting Bell.
His latest contribution to the Resting Bell-catalog is really huge. It is a five hour work.
16 titles with a duration of 4:33 minutes each and five long forms with 39 minutes to 48 minutes.
The sixteen short tracks play with a distorted and rough tone. Little guitar miniatures are hidden under a dense curtain of hiss and dust. The long forms are coming with a cleaner guitar sound, playing with extrem short patterns, soft droning waves or swirling melodies.
Enjoy this massive work and thanks a lot for this wonderfull contribution, Saito.
Release Date
12.03.2013
Author
All tracks written and produced by Saito Koji
Artwork
Artwork and Photo by Christian Roth, www.goyippi.net
Download tracks
archive.org
sonicSQUIRREL

1. Yes 1
2. Yes 2
3. Yes 3
4. Yes 4
5. Yes 5
6. Yes 6
7. Yes 7
8. Yes 8
9. Yes 9
10. Yes 10
11. Yes 11
12. Yes 12
13. Yes 13
14. Yes 14
15. Yes 15
16. Yes 16
17. Yes 17
18. Yes 18
19. Yes 19
20. Yes 20
21. Yes 21

Download graphics and informations
archive.org
sonicSQUIRREL

Download release sheet (.pdf)
Download cover (.pdf)
Download front picture big (.jpg)
Download back picture big (.jpg)
Download front picture small (.jpg)
Download back picture small (.jpg)

Download all files
archive.org
sonicSQUIRREL

Download all files (.zip)
Stream release
Licence
This release is licensed under a Creative Commons Attribution-NonCommercial-NoDerivs 3.0 License.

Releases