d'incise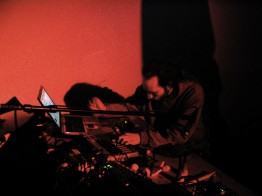 About the artists
d'incise, born in 1983, is member of the Audioactivity music & visual collective founded in 2000 in Geneva (CH). In 2002 he starded to arranges hybrids of electronic music, from dub to electronica, dangerously sliding to the electroacoustic more experimental ways. His world is made with sound fractures, nevralgic crepitations, melancolic atmospheres and a non-dissimulated fascination for rust and faded rhythms.
After one self-produced cd in 2004, he started to release his music on various netlabels as Zymogen or Test Tube.
Beside he pratice free improvisation, using laptop, live treatments and various objects & contakts mic, collaborating with few electronic or acoustic musicians. Diatribes (open trio or more, close to freejazz, with drummer Cyril Bondi and guest) is his main improvised project.
d'incise play also a solo live act, closer of electronica, where he operate fluctuations suites of rythmic pulsions, simple melodies and noise waves for a destroyed dancefloor.
He coordinate the Insubordinations netlabel, dedicate to improvised music.
Links
www.dincise.net
Appearing on the following releases
Artists