Saffron Slumber – Somnogen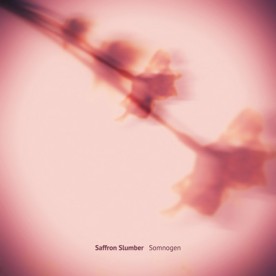 Description
Oak Thielbar has been writing music under the name of Saffron Slumber since 2004. Originally started as a project to explore ideas in ambient music, the project has continued to evolve over its lifespan to include aspects of noise, drone, and other forms of experimental composition. Former releases could be found on Pocket Change Records, Skrow!Media, Zenapolae, Luxus-Arctica Records International, and Circlesandlines Recordings.
"Somnogen" consists of 6 tracks and has a complete duration of 36 minutes. The first five tracks are three to five minutes long. Beginning with the noisier "Möbius Thought", it becomes more calm and droning with the following three tracks. Fragile melodies are woven together with meandering, droning sounds and glimmering organic patterns. "Onyx" returns to the noisier, darker ambiance of the beginning and serves as a bridge between its melodic predecessors and "Oneiric Sun" – a massive 18-minute track, slowly breathing and evolving from a dark and mellow foundation to a burning star and back again.
Enjoy this wonderful and warm piece of drone- and ambient-music.
Release Date
31.12.2010
Author
All tracks written and produced by Oak Thielbar
Artwork
done by Christian Roth, www.goyippi.net
Images by lush-loomer, www.flickr.com/photos/lushloomer
Download tracks
archive.org
sonicSQUIRREL

1. Möbius Thought
2. Oak Horn
3. Torsion
4. Onyx
5. Old Growth
6. Oneiric Sun

Download graphics and informations
archive.org
sonicSQUIRREL

Download release sheet (.pdf)
Download cover (.pdf)
Download front picture big (.jpg)
Download back picture big (.jpg)
Download front picture small (.jpg)
Download back picture small (.jpg)

Download all files
archive.org
sonicSQUIRREL

Download all files (.zip)
Stream release
Licence
This release is licensed under a Creative Commons Attribution-NonCommercial-NoDerivs 3.0 License.

Releases