Christopher McFall – A Long Time Running for The Suicide Strays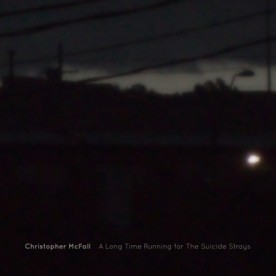 Description
Christopher McFall is a well-known name in the experimental music scene, not only because of his CD-releases for Entr'acte, Mystery Sea, Sourdine, 1000füssler, Gears Of Sand, Moving Furniture Records and Unfathomless, but he's also composed a multitude of netaudio-releases on Test Tube, Earlabs, Clinical Archives, Alg-a, CONV and Impulsive Habitat. What an impressive list of work.
His new release on Resting Bell is a lovely EP called "A Long Time Running for The Suicide Strays". It consists of 4 tracks with a complete duration of 25 minutes. The EP starts with very rhythmic fragments, bringing to mind notions of old machines covered with dust and then it evolves into a more droning environment. The sound is really dark and harsh. The rhythmic elements seem to be hammering from a distant time and the melodies are haunting through old and frazzled drapery. If I had to describe a room for this music it would be an old abandoned factory-building or vaudeville-theatre. Christopher has assembled all of these elements together very carefully and in a sublime manner. For me it is hard to say whether the source sound materials are derived from field recordings, piano fragments or some saxophone-sounds. As a whole, the EP has a very dense and atmospheric composition.
Enjoy the days of fall with this wonderful release.
Release Date
27.11.2010
Author
All tracks written and recorded by Christopher McFall
Artwork
done by Christian Roth, www.goyippi.net
Cover image was taken by Christopher McFall
Download tracks
archive.org
sonicSQUIRREL

1. Crooked Site Winding
2. Exquisite Sender
3. Third Guest
4. Tightrope's Ailing

Download graphics and informations
archive.org
sonicSQUIRREL

Download release sheet (.pdf)
Download cover (.pdf)
Download front picture big (.jpg)
Download back picture big (.jpg)
Download front picture small (.jpg)
Download back picture small (.jpg)

Download all files
archive.org
sonicSQUIRREL

Download all files (.zip)
Stream release
Licence
This release is licensed under a Creative Commons Attribution-NonCommercial-NoDerivs 3.0 License.

Releases