Oskar Hallbert – doodling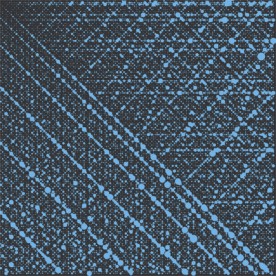 Description
Oskar Hallbert is a Swedish composer who makes minimal music; tranquil melodies, documentary field recordings and the warm hiss you get from old microphones, casette tapes and an out of date mp3-player. You might know him from his former online releases on Zymogen or Rain Music. He has also released physical albums on small underground lables around the world, most recent on U.K. based Heat death.
The EP "doodling" consists of 5 tracks and is 12 minutes and 12 seconds long. All songs are like little folk-miniatures for instance containing simple guitar-figures, a toy keyboard and field recordings. The feeling of the EP reminds me of old photographs found in the attic, with buckled corners, covered with dust, and with faded colouration. They are like pieces of frozen time, they tell a fraction of a story.
Release Date
29.07.2010
Author
All tracks written and produced by Oskar Hallbert
Artwork
done by Christian Roth, www.goyippi.net
Image: Ulam Spiral Divisors 100000 by Cortexd, licensed under Creative Commons Attribution 3.0
Download tracks
archive.org
sonicSQUIRREL

1. moving
2. raining
3. commuting
4. doodling
5. waiting

Download graphics and informations
archive.org
sonicSQUIRREL

Download release sheet (.pdf)
Download cover (.pdf)
Download front picture big (.jpg)
Download back picture big (.jpg)
Download front picture small (.jpg)
Download back picture small (.jpg)

Download all files
archive.org
sonicSQUIRREL

Download all files (.zip)
Stream release
Licence
This release is licensed under a Creative Commons Attribution-NonCommercial-ShareAlike 3.0 License.

Releases