offthesky – du soleil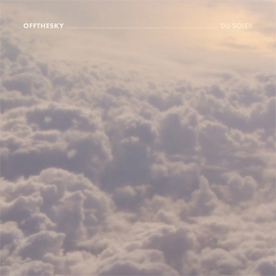 Description
Time is a strange thing. Two and a half years ago (65 releases ago, in netlabel-speak) Resting Bell released offthesky's "rare decay". A timeless and beautiful 4 song EP. I didn't hesitate a second when Jason Corder asked me if I'd be interested in a re-release of his musically related "du-soleil" EP which was originally released via atmoworks back in 2007.
"du soleil" is not only fully remastered, but it is also extended with three fine remixes from Darren Mcclure, Billy Gomberg and offthesky himself. So all in all around 54 minutes of pure bliss – not really an EP anymore I suppose. As I listened to "du soleil" it was hard for me to believe that this work is even dated. It sounds fresh, gentle and bright with the same timeless quality, you can find in all of Jason's releases. "du soleil" is a very calm ambient-work with many subtle melodies and musical ideas hiding inside.
Last but no least, the three additional remixes are quite stunning: Darren McClure's rework presents a multifaceted structure of evolving and lush tonal climates. Billy Gomberg brings a moody and diffused interpretation with subtle tone resting upon a bed of ash like analog texture. Jason's own perspective is a soft re-synthesis of compositional elements and samples used throughout all 4 pieces in "du soleil". This group of additional treats, makes the perfect landing for a work that certainly stems from somewhere above.
Release Date
30.04.2010
Author
Track 1-4 are written and produced by Jason Corder
Remixes done by
Darren Mcclure
Billy Gomberg
offthesky
Artwork
done by Christian Roth, www.goyippi.net
Image: Clouds from airplane by Bizelburp123
Note
The artwork was updated on September 9th, 2010.
The old artwork based on an image by Wing-Chi Poon.
Download tracks
archive.org
sonicSQUIRREL

1. burning of pella soleil
2. sea ghosts
3. desert poly
4. photosynesthesia
5. du soleil (remixed by darren mcclure)
6. du soleil (remixed by billy gomberg)
7. du soleil (remixed by offthesky)

Download graphics and informations
archive.org
sonicSQUIRREL

Download release sheet (.pdf)
Download cover (.pdf)
Download front picture big (.jpg)
Download back picture big (.jpg)
Download front picture small (.jpg)
Download back picture small (.jpg)

Download all files
archive.org
sonicSQUIRREL

Download all files (.zip)
Stream release
Licence
This release is licensed under a Creative Commons Attribution-NonCommercial-NoDerivs 3.0 License.

Releases