slow – dual box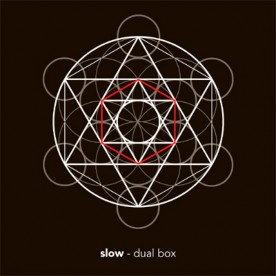 Description
You might remember slow by his "room phive"-release on Resting Bell last December, or for the "Love"-EP on Autoplate. If not, slow is the moniker of Sergey Suokas, a russian composer in the fields of techno (as Suokas) and soulful and hypnotic ambient-music (as slow).
His new release "dual box" can be seen as a meditation on the "Flower of Life". This geometrical figure is a composition of multiple evenly-spaced, overlapping circles, that are arranged so that they form a flower-like pattern with a sixfold symmetry like a hexagon. In combination with triangles and cubes you get a sacred geometry which has references in most of the commons religions and spiritual ways.
Every single track on "dual box" is dedicated to a circle in the geometrical figure. Starting with "chinatown", you get from a very clam and percussive piece to warm multiple guitar-layers, repetitive synth-elements and little miniature compositions. A beautiful and complete concept.
And not to forget: Ian Hawgood mastered this release with calm hands and very sensitive ears.
Thanks a lot for your work, Ian.
Release Date
03.10.2009
Author
All tracks written and produced by slow
Mastered by Ian Hawgood
Artwork
done by Christian Roth, www.goyippi.net
Download tracks
archive.org
sonicSQUIRREL

1. chinatown
2. loma
3. dreaming
4. insomnia
5. miracle
6. you can't say no to

Download graphics and informations
archive.org
sonicSQUIRREL

Download release sheet (.pdf)
Download cover (.pdf)
Download front picture big (.jpg)
Download back picture big (.jpg)
Download front picture small (.jpg)
Download back picture small (.jpg)

Download all files
archive.org
sonicSQUIRREL

Download all files (.zip)
Stream release
Licence
This release is licensed under a Creative Commons Attribution-NonCommercial-NoDerivs 3.0 License.

Releases