strom noir – kueyen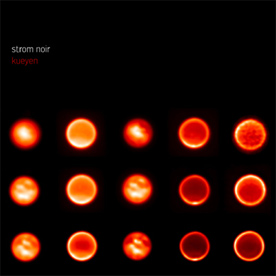 Description
strom noir is a project of Emil Matko, born in 1979 and now living in Bratislava, Slovakia. He is wellknown from his releases on u-cover (ylomejja, kruhyNAvode), ambsine (luvyoo) and format noise (lorawa).
"kueyen" brings you six athmospheric ambient-experimental tracks, built mainly with electric and acoustic guitar loops, synth-layers and some well-arranged field-recording elements. Deep, sometimes really dark droning elements, repetitive melodic structures and more abstract electronic sounds were composed to six works with a big ambience and a little melancholic touch. Especially the combination between the rougher guitar loops and the cleaner synth-parts opens up a new and wide soundworld to the listener.
A great release to enjoy the last summer evenings here in Europe.
Please lay back, watch the stars above you and enjoy "kueyen".
Release Date
03.09.2009
Author
All tracks written and produced by strom noir
Artwork
done by Christian Roth, www.goyippi.net
Image: ESO – Titan (by), Author: ESO
The image shows the Saturn moon "Titan" on November 20, 25 and 26, 2002 through five filters.
The images were taken by the telescope "Yepun".
Download tracks
archive.org
sonicSQUIRREL

1. kueyen
2. yepun
3. turiec
4. undanda
5. antu
6. tao tao

Download graphics and informations
archive.org
sonicSQUIRREL

Download release sheet (.pdf)
Download cover (.pdf)
Download front picture big (.jpg)
Download back picture big (.jpg)
Download front picture small (.jpg)
Download back picture small (.jpg)

Download all files
archive.org
sonicSQUIRREL

Download all files (.zip)
Stream release
Licence
This release is licensed under a Creative Commons Attribution-NonCommercial-NoDerivs 3.0 License.

Releases