Bas van Huizen – Wegwerpwee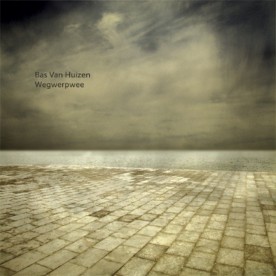 Description
Bas van Huizen is a sound and visual artist (video/animation) from Nijmegen the Netherlands. You may know him from his "Ontgalman"-release on test tube or from his physical releases on Etherkreet records. A label focusing on electroacoustic and improvised music, which he runs together with Ezra Jacobs.
"Wegwerpwee" contains 8 tracks. According to Bas most of the material is older than "Ontgalman", but he mixed and remastered everything for this release. And it is a wonderful piece of electroacoustic-experimental-ambient-music. "Wegwerpwee" has a rough, down-to-earth, handmade touch. Very drony, with background-noises, hisses, crackles, melody layers, all mixed and set together very carefully and subtly.
Please also have a listen to "Ontgalman" at test tube and his output on Etherkreet. And to maximise your pleasure: Make sure to listen with headphones.
Release Date
25.08.2009
Author
All tracks written and produced by Bas van Huizen
Artwork
done by Bas van Huizen and Christian Roth, www.goyippi.net
Image by Bas van Huizen
Download tracks
archive.org
sonicSQUIRREL

1. Wegwerpwee
2. Waaierklater
3. Achterklad
4. Geneescheer
5. Veinzersdij
6. Vergnoegd
7. Strijkpeil
8. Stemzand

Download graphics and informations
archive.org
sonicSQUIRREL

Download release sheet (.pdf)
Download cover (.pdf)
Download front picture big (.jpg)
Download back picture big (.jpg)
Download front picture small (.jpg)
Download back picture small (.jpg)

Download all files
archive.org
sonicSQUIRREL

Download all files (.zip)
Stream release
Licence
This release is licensed under a Creative Commons Attribution-NonCommercial-NoDerivs 3.0 License.

Releases