brunk – winter ep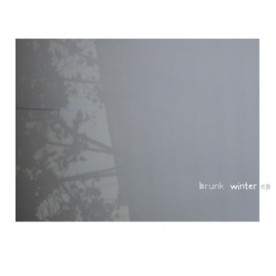 Description
brunk is the solo-project of Bert Vanden Berghe, homerecording musician, born in 1977 and now living in Ghent, Belgium. Bert started with brunk in 1998;  he just wanted to record and experiment with music in a free way, without stylistic restrictions or a predefined direction. Other brunk-releases are available from WM Recordings and Dog Eared Records.
The "winter ep" contains 4 tracks with a complete duration of 21 minutes, recorded in February 2008. All 4 pieces are slow, contemplative and guitar-driven with additional sounds and noises. Only "Laika's view", the first track, is really drone-based with floating noises and haunting melodies. The three other pieces are full of beautiful envolving guitar-melodies, enriched with background-noises, nature-sounds, talking, walking, footsteps and feedbacks.
Very calming, soothing and beauteous. The perfect release to welcome the spring.
Release Date
26.03.2009
Author
All tracks written and produced by Bert Vanden Berghe
Artwork
done by Bert Vanden Berghe
Image: Elfi van den Bos
| | |
| --- | --- |
| Buy CDr | www.brunk.be |
| Handmade CD-r with printed artwork, 6€ (incl. shipping) | |
Download tracks
archive.org
sonicSQUIRREL

1. Laika's view
2. surrounding
3. zon in februari
4. nachtwandeling

Download graphics and informations
archive.org
sonicSQUIRREL

Download release sheet (.pdf)
Download cover (.pdf)
Download front picture big (.jpg)
Download back picture big (.jpg)
Download front picture small (.jpg)
Download back picture small (.jpg)

Download all files
archive.org
sonicSQUIRREL

Download all files (.zip)
Stream release
Licence
This release is licensed under a Creative Commons Attribution-NonCommercial-NoDerivs 3.0 License.

Releases