Etienne Michelet – Calendaires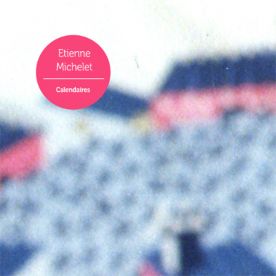 Description
Etienne Michelet is a young composer and musician from France.
After his self-released works "Bleu Vespéral" and "Le Piano à Coudre (The Sewing-Piano)", this is the first release of his ongoing "Calendaires"-project, which moves in the fields of minimal, ambient, experimental music and classical music.
This "Calendaires"-release contains two parts, both together over 50 minutes long. Part one begins in a very dark context. Deep, growling bass sounds coming to the surface very slowly, bringing some motives and melodies with them. All these parts are layered together to a monumental and threatening wall of sound, which collapses and falls apart into a deep and dark soundscape again. Part two brings more light to the listener. Little chime-pieces lead to a wide field of melodies and sounds rushing around, bringing back memories.
Release Date
04.05.2008
Author
All tracks written and produced by Etienne Michelet
Artwork
done by Christian Roth, www.goyippi.net
Image by Etienne Michelet
Download tracks
archive.org
sonicSQUIRREL
Download graphics and informations
archive.org
sonicSQUIRREL

Download release sheet (.pdf)
Download cover (.pdf)
Download front picture big (.jpg)
Download back picture big (.jpg)
Download front picture small (.jpg)
Download back picture small (.jpg)

Download all files
archive.org
sonicSQUIRREL

Download all files (.zip)
Stream release
Licence
This release is licensed under a Creative Commons Attribution-NonCommercial-NoDerivs 3.0 License.

Releases