cloudburst – katedra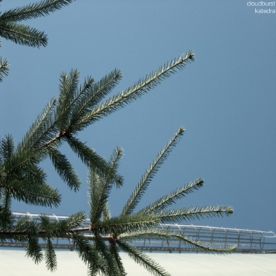 Description
cloudburst is Tim Westcott from Portland, Oregon.
On his first release "katedra", he operates with very minimal, subtle drones and little repetitive elements, shifting into each other. Originally written for a performance in cathedral space, the first two pieces ("katedra jeden", "katedra dwa") are very light, crystal and create a wide open, meditative soundscape. The third piece ("flora") is a more dense production, just taking you back from the big, enormous "katedra".
All elements in this work are used very carefully and with a great sense for change at the right moment. Every tone seems to appear from a different direction, waving around, striving to heaven. All together a very deep, atmospheric and sublime creation.
Release Date
06.02.2008
Author
All tracks written and produced by cloudburst
All music recorded in june and july of 2007 by cloudburst.
Track 1 and 2 originally recorded for the cathedral space at SLOTart festival 2007.
Artwork
done by cloudburst
Download tracks
archive.org
sonicSQUIRREL

1. katedra jeden
2. katedra dwa
3. flora

Download graphics and informations
archive.org
sonicSQUIRREL

Download release sheet (.pdf)
Download cover (.pdf)
Download front picture big (.jpg)
Download back picture big (.jpg)
Download front picture small (.jpg)
Download back picture small (.jpg)

Download all files
archive.org
sonicSQUIRREL

Download all files (.zip)
Stream release
Licence
This release is licensed under a Creative Commons Attribution-NonCommercial-NoDerivs 3.0 License.

Releases