entia non – sub routine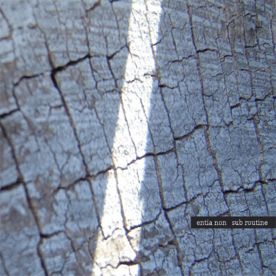 Description
"entia non" is the project moniker of Australian artist James McDougall. After great releases at u-cover (zero comma zero, inter alia) and test tube (distal) he comes up with his first release "sub routine" on Resting Bell.
The four tracks, deeply affected by the Australian landscape (South East Queensland), are very subtle, just like putting your ears on the ground of an animated, busy grassland. Little glitches grawling around like insects, soft wind flurries playing in the long green grass. Then you hear distant shreds of melodies, waving through the air, on the last day of your summer holidays.
If you live on the northern hemisphere, you can close your eyes and let in some memories of the last golden sunbeams. On the southern hemisphere, you can sit on the porch and enjoy the warm season with this gentle and touching pieces.
Release Date
10.01.2008
Author
All tracks written and produced by James McDougall
Artwork
done by Christian Roth, www.goyippi.net
Image by James McDougall, www.myspace.com/entianon
Download tracks
archive.org
sonicSQUIRREL

1. intermittent foregrounds
2. closed under interpretation
3. macro rhetoric
4. peices of eight and dubloons

Download graphics and informations
archive.org
sonicSQUIRREL

Download release sheet (.pdf)
Download cover (.pdf)
Download front picture big (.jpg)
Download back picture big (.jpg)
Download front picture small (.jpg)
Download back picture small (.jpg)

Download all files
archive.org
sonicSQUIRREL

Download all files (.zip)
Stream release
Licence
This release is licensed under a Creative Commons Attribution-NonCommercial-NoDerivs 3.0 License.

Releases