Moabi – Hanami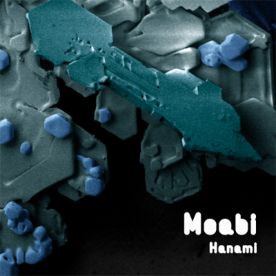 Description
Moabi from Toulouse, France, collected three own pieces and two remixes for this fantastic release called "Hanami" (japanese for "enjoying the beauty of flowers").
Set up between Electronica, IDM, Experimental music and Ambient, all five pieces have a very unique, deep feeling. An impressive mix of beautiful melodies, intense atmosphere and twinkle-toed beats. Starting with the more beat-orientated "Hey You" the EP gets calmer with every following track, finding it's end in the quiet and subtle "Moll"-piece with over nine minutes of glitches and hounted melodies.
Warm your cold winter-feet with this warming organic sounds.
Release Date
21.12.2007
Author
Tracks 1 to 5 written and produced by Moabi (c) Toulouse, France.
Tracks 2 and 4 are remixes of the following artists: Manekinekod and Five String Sam
Please visit:
www.myspace.com/manekinekod
www.myspace.com/fivestringsam
Artwork
done by Christian Roth, www.goyippi.net
Image: Snow crystals
Download tracks
archive.org
sonicSQUIRREL

1. Hey You
2. Manekinekod Remix
3. Celema
4. 5string Remix
5. Moll

Download graphics and informations
archive.org
sonicSQUIRREL

Download release sheet (.pdf)
Download cover (.pdf)
Download front picture big (.jpg)
Download back picture big (.jpg)
Download front picture small (.jpg)
Download back picture small (.jpg)

Download all files
archive.org
sonicSQUIRREL

Download files (.zip)
Stream release
Licence
This release is licensed under a Creative Commons Attribution-NonCommercial-NoDerivs 3.0 License.

Releases