Mensa – Nordic Recordings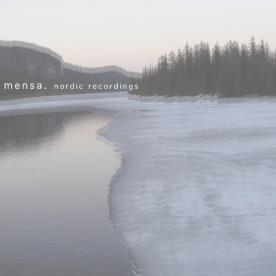 Description
Mensa is a project by Edu Comelles from Barcelona, Spain. Mensa creates soundscapes in a dialogue between sound experimentation with high-tech possibilities and the natural enviroment, the landscape and the countryside.
All the sounds are produced to be listened outside, in public spaces or natural enviroments.
So, Nordic Recordings is a beautiful 4-track EP with softly moving soundstructures. It is a very calm and gentle production.
Concept
This album was concived using the legacy of early works on sound done in Sweden during the spring of 2006. Those first recordings were produced in Stockholm and Säxnas (Lappland). The actual mix of the album is finished in Barcelona on october 2007.
Aswell, in Lappland, Mensa produced many other tracks that still haven't been published. The aim of the album is to develop a personal soundtrack for a moving landscape in the northern part of europe.
Release Date
23.10.2007
Author
All tracks written and produced by Edu Comelles
Artwork
done by Mensa, www.educomelles.com
Download tracks
archive.org
sonicSQUIRREL

1. Silent Landscapes
2. When I Was There
3. Stadt Bibliotek
4. Skåne

Download graphics and informations
archive.org
sonicSQUIRREL

Download release sheet (.pdf)
Download cover (.pdf)
Download front picture big (.jpg)
Download back picture big (.jpg)
Download front picture small (.jpg)
Download back picture small (.jpg)

Download all files
archive.org
sonicSQUIRREL

Download all files (.zip)
Stream release
Licence
This release is licensed under a Creative Commons Attribution-NonCommercial-NoDerivs 3.0 License.

Releases