Saito Koji – Again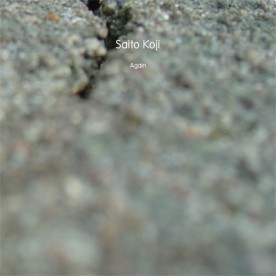 Description
After a short break in May we start this month with another wonderful release by Saito Koji.
Similar as his former RB-release "Guide" "Again" consists of eight tracks, each 3 minutes long.
And also the music hits a similar tone. Droning, distorted and dense guitar tones are swirling around. Every piece contains a short melodic loop, presented in a very uncommon lenth. But the pieces are so compact and dense that you don't need a 30-minute repeating loop.
I strongly recommend headphones for a proper listening experience.
And then just hit the repeat button.
Release Date
01.06.2012
Author
All tracks written and produced by Saito Koji
Artwork
Artwork and Photo by Christian Roth, www.goyippi.net
Download tracks
archive.org
sonicSQUIRREL

1. Alone
2. Aurora
3. Dog
4. Joy
5. Magic
6. Sunset
7. Touch
8. Wash

Download graphics and informations
archive.org
sonicSQUIRREL

Download release sheet (.pdf)
Download cover (.pdf)
Download front picture big (.jpg)
Download back picture big (.jpg)
Download front picture small (.jpg)
Download back picture small (.jpg)

Download all files
archive.org
sonicSQUIRREL

Download all files (.zip)
Stream release
Warning
: Use of undefined constant SA - assumed 'SA' (this will throw an Error in a future version of PHP) in
/www/htdocs/w00719dd/restingbell_v1/wp-content/themes/resting_bell/page.php
on line
12
Licence
This release is licensed under a Creative Commons Attribution-NonCommercial-NoDerivs 3.0 License.

Releases