Off Land – Anniversary EP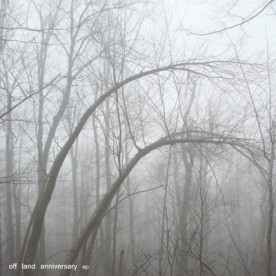 Description
Similar to my previous release, Commute, which was an exercise in revisiting a past experience, the Anniversary ep is an exercise in revisiting a moment of time. Parts of my wedding were documented with field recordings. This included pre-ceremony unpacking / chatter / music, post-ceremony celebration / music, and a hike up a mountain. This material became the album's skeleton. The guitar and French Horn were exstracted from the original field recordings.
I decided to honor the original rural conditions for playing music at my wedding and record the release with acoustic instruments only. The result is a group of dusty organic pieces that sonically represent a mountainous hike in mist and the day's memories, as far as weather conditions will let you go. A french horn bellows and the distance on an early May day in northern New Hampshire.
Release Date
18.05.2010
Author
All tracks written and recorded by Off Land 2009-2010
Guitar by Ben Dwyer
French Horn by Eric Damashek
Field Recording by Marc Damashek
Artwork
done by Tim Dwyer
Image by Ben Dwyer
| | |
| --- | --- |
| Buy high-quality download | bandcamp.com |
| All tracks as 320 kbps MP3, FLAC or AAC, with bonus track, 2$ | |
Download tracks
archive.org
sonicSQUIRREL

1. Arrival
2. Practice
3. Ceremony, part 1
4. Streams
5. Ascent
6. Of Height
7. Ceremony, part 2

Download graphics and informations
archive.org
sonicSQUIRREL

Download release sheet (.pdf)
Download cover (.pdf)
Download front picture big (.jpg)
Download back picture big (.jpg)
Download front picture small (.jpg)
Download back picture small (.jpg)

Download all files
archive.org
sonicSQUIRREL

Download all files (.zip)
Stream release
Warning
: Use of undefined constant SA - assumed 'SA' (this will throw an Error in a future version of PHP) in
/www/htdocs/w00719dd/restingbell_v1/wp-content/themes/resting_bell/page.php
on line
12
Licence
This release is licensed under a Creative Commons Attribution-NonCommercial-NoDerivs 3.0 License.

Releases