gillicuddy – the repeating thoughts of old zinng-zanng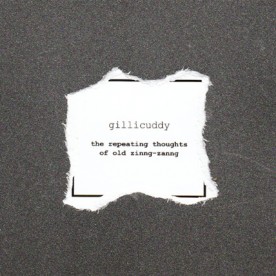 Description
"grumpy folk with a grin", that's how gillicuddy, in real life Andi Rohden, titles his musical output. Mainly based on folk-orientated acoustic guitar-lines with slightly broken vocals and additional background-structure from a keyboard, melodica, accordion or a second guitar-line, his work reminds me mostly of Tom Waits, acoustic dEUS, non-electrical Notwist or Modest Mouse.
"the repeating thoughts of old zinng-zanng" is the follow-up to his "Shmalhans is Kuechenmeister"-release on Merzbau-Label and it is a very special thing. On the release-label it consists of 5 tracks, only numbered by roman letters I to V. Starting to listen, you'll first get two outstanding folk-pop-tunes. Track "I" has a certian "The Notwist"-feeling in my ears, a very clear and catchy melody, a bit melancholic but always with a shimmering light in the back. The track fades away after two minutes, and "II" starts. More dramatic and deeper, but also leaving a footprint in your auditory canal when it stops after another two minutes. Followed by "III" which means 10 seconds silence and then…
…you hear "the repeating thoughts". Is it the same? Is it slightly different? Am I in the head of a songwriter? Am I part of the process? Is it a joke?
Release Date
07.05.2009
Author
All tracks written and produced by gillicuddy
Artwork
done by gillicuddy
| | |
| --- | --- |
| Buy CDr | www.gillicuddy.de |
| Enhanced 3″-cdr, limited to 20 copies | |
The CDr contains all five audio-tracks and a data-track with mp3-tracks, video and pictures.
It is packed in a metal-box with hand-ripped labels.
Download tracks
archive.org
sonicSQUIRREL

1. I
2. II
3. III
4. IV
5. V

Download video
archive.org
sonicSQUIRREL

Download video (.mp4, 27 MB)

Download graphics and informations
archive.org
sonicSQUIRREL

Download release sheet (.pdf)
Download cover (.pdf)
Download front picture big (.jpg)
Download back picture big (.jpg)
Download front picture small (.jpg)
Download back picture small (.jpg)

Download all files
archive.org
sonicSQUIRREL

Download all files (.zip)
Stream release
Warning
: Use of undefined constant SA - assumed 'SA' (this will throw an Error in a future version of PHP) in
/www/htdocs/w00719dd/restingbell_v1/wp-content/themes/resting_bell/page.php
on line
12
Licence
This release is licensed under a Creative Commons Attribution-NonCommercial-NoDerivs 3.0 License.

Releases